The connection between young people and politics is complicated and controversial. They are seen as both the group that is politically disengaged and the group that is at the forefront of significant political movements. For example,  the leaders of social movements such as Black Lives Matter are all young adults. In addition, in recent years, a record number of young people have run for and been appointed to positions in government and nonprofit organizations.
The issue of why there aren't more young people engaged in politics, on the other hand, is often brought up as a point of discussion. It is critical that we revise our strategy if we are serious about expanding political engagement among the generations of the twenty-first century.
The Feeling of Hopelessness among Young People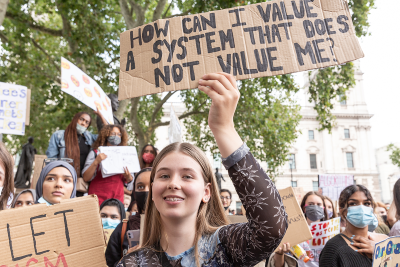 First and foremost, in order to avoid judging young people, it is necessary to first understand why they often choose to remain unengaged and then to sympathize with them on their behalf.
It is more probable that individuals under the age of 30 will remember September 11th and the development of the surveillance state as their first political memories, cementing in them the belief that we can never be entirely secure and that we must constantly be prepared for the worst-case scenario.
Aside from that, many young people have been struggling with the existential weight of whether the Earth will still be habitable by the time they retire since they were children, and this is a problem that has persisted throughout their lives. Even the gloomy outlook for climate change is tempered by a healthy dose of skepticism on our part.
Individuals under the age of 35 are more likely than older people to be depressed, rather than indifferent or disengaged, according to research. When it comes to overcoming this sense of despair and helplessness, empathy and a clear message that our problems are being addressed by allies of all ages are important. Also significant is that we should not mislead young people by telling them stories about the rough times of past generations while dismissing their struggles.
Young People and the Internet
The internet is a powerful instrument for spreading information to a large number of people, but it also has the potential to do damage via the spreading of false information. Young people who are politically active from a variety of political backgrounds use the internet not only for their education by taking online quizzes but also use social media on a daily basis to share information, influence their peers, and make their presence known in political spaces.
Since 2015, young people have been at the forefront of human rights and environmental movements, taking the lead in climate strikes throughout the nation and in the March for Our Lives campaign, among other things. Thousands of postsecondary students across the globe are tackling the issues of access to higher education as well as sexual harassment and assault. In today's world, young people who are proficient in digital technologies have enormous influence and presence in the discussions that take place online, and they are a political force to be reckoned with. Youth movements have always had a role in shaping and informing politics. Some of the most important leaders of our time got their start in activism when they were teenagers. However, at this time, when young people are fueled by the power of the internet, their influence is multiplied by a factor of ten.
Power vs. Politics 
To get beyond the notion that young people are either politically active or disengaged, it is necessary to recognize that both positions may be valid at the same time. Throughout history, young people have been denied the right to exercise power, which has severely limited their ability to engage in political organization and political participation. Low voter turnout among young people is seen as evidence of indifference, but this interpretation overlooks the organizational challenges to political engagement that many young people experience.
It also fails to take into consideration the deep distrust many young people have for the government. Apathy does not exist when one feels detached from a process that is seen to be useless. This is especially true when one considers how political parties, even those that claim to represent us, have neglected young people over the years.